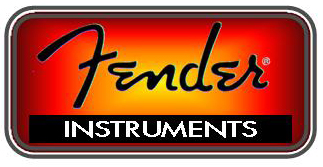 (Since our stock can change daily, please call to check colors currently in stock of Guitar Models shown. Thank you.)
Click on Thumbnail Photos for Closer View. If after loading, Thumbnails do not show picture, please REFRESH

Also Check out our Used and Consignment Page for Great Deals on Musical Gear
300 -TN / 400-TN (packs)
FENDER SQUIER STRATOCASTER GUITARS
0370121554 - Squier Mini Stratocaster Guitar (Dakota Red) - $199.99
0370121506 - Squier Mini Stratocaster Guitar (Black) - $199.99
0371001506 - Squier Bullet Stratocaster HT Guitar (Black) - $199.99
0371001548 - Squier Bullet Stratocaster HT Guitar (Sonic Gray) - $199.99
0378003502 - Squier Affinity Stratocaster Guitar (Lake Placid Blue) - $289.00
0378152547 - Squier Affinity Stratocaster FMT HSS Guitar (Sienna Sunburst) - $339.99
0374020501 - Squier Classic Vibe 70s Stratocaster Guitar (Olympic White) - $459.00
0370230536 - Squier Contemporary Stratocaster Special Guitar (Sky Burst Metallic) - $459.00
0370322565 - Squier Contemporary Stratocaster HSS Guitar (Black Metallic) - $549.00
TN-450

0371823032 - Squier Stratocaster Guitar and Amp Pack (Sunburst) - $289.99
0372820002 - Squier Affinity Stratocaster HSS Guitar and Amp Pack (Lake Placid Blue) - $389.99
FENDER SQUIER TELECASTER GUITARS
0310223550 - Squier Affinity Telecaster Left Handed Guitar (Butterscotch Blonde) - $229.99
0378253506 - Squier Affinity Telecaster Deluxe (Black) - $299.99
0378250566 - Squier Affinity Telecaster Deluxe (Burgundy Mist) - $299.99
0377030500 - Squier Paranormal Baritone Cabronita Telecaster (3-Color Sunburst) - $449.00
0374035550 - Squier Classic Vibe Telecaster Guitar (Butterscotch Blonde) - $459.00
TN-450
FENDER SQUIER - OTHER MODELS
0370125557 - Squier Mini Jazzmaster HH Guitar (Sage Green) - $199.99
0371220587 - Squier Bullet Mustang HH Guitar (Imperial Blue) - $199.99
0378301502 - Squier Affinity Jazzmaster Guitar (Lake Placid Blue) - $299.99
0370470583 - Squier Contemporary Active Starcaster (Ice Blue Metallic) - $399.99
0377010506 - Squier Paranormal Cyclone Guitar (Daphne Blue) - $449.00
FENDER SQUIER BASS GUITARS
0370127506 - Squier Mini Precision Bass Guitar (Black) - $199.99
0378502502 - Squier Affinity Jaguar Bass H Guitar (Lake Placid Blue) $289.99
0378551502 - Squier Affinity Precision Bass PJ Guitar (Lake Placid Blue) - 299.00
0378551569 - Squier Affinity Precision Bass PJ Guitar (Charcoal Frost Metallic) - $299.99
0374515500 - Squier Classic Vibe 60s Precision Bass Guitar (3 Color Sunburst) - $489.00

0372981006 - Squier Affinity Precision Bass PJ Guitar & Amp Pack (Black) - $399.99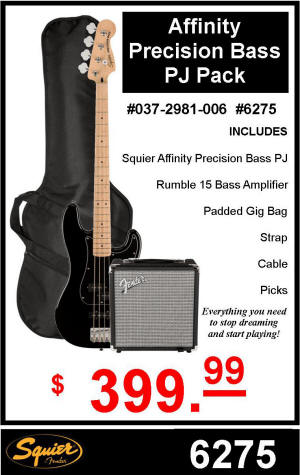 Icon. Not a word to be used lightly. But the Fender Stratocaster is just that. Starting with the affordable Standard Series Fender Stratocaster to the top of the line American Standard Stratocaster, Fender has created a Stratocaster for every budget and discerning musician. Take a look at our selection of Stratocasters: Standard Series, Standard Series HSS, Deluxe Roadhouse, Highway One, American Special Series, Artist Series Stratocaster and of course, the American Standard.
FENDER STRATOCASTER GUITARS
0144552531 - Fender Player Stratocaster PLUS Top Guitar (Aged Cherry Burst) - $879.99
0147512360 - Fender 75th Anniversary Stratocaster Guitar (Diamond Anniversary Finish) - $899.99
0149912372 - Fender Vintera 50s Stratocaster Guitar (Sonic Blue) - $1099.99
0114910342 - Fender American Performer Stratocaster Guitar (Honey Burst) - $1399.99
0113910705 - Fender American Pro II Stratocaster HSS Guitar (Olympic White) - $1749.99
A History of Fender Guitars - Wikopedia (PDF)

The look, sound and vibe of the Fender Telecaster guitar resonates throughout the history and soundscapes of popular music. From orchestra pits to mosh pits; small clubs to stadiums and garages to recording studios, its signature sound is everywhere. Beginning with the Standard Telecaster guitar to the top of the line American Standard Telecaster, Fender has created a Telecaster just for you. Take a look at the models we have in stock including the Standard Series, Deluxe Nashville, Highway One, Classic Thinline Telecaster, Spalted Maple Telecaster to the American Standard Telecaster.
FENDER TELECASTER GUITARS
0147342350 - Fender Player Plus Nashville Tele (Butterscotch Blonde) - $1129.99
0177532833 - Fender 75th Anniversary Commemorative Telecaster Guitar (2 Color Bourbon Burst) - $1999.99
FENDER - OTHER MODELS

The sounds that create legends. Since its birth in the early '50s, the Fender Precision Bass guitar has remained the ubiquitous standard for thick tone and smooth playability. Also, since its introduction in 1960, the Fender Jazz Bass has been relied on by professional bass players of all musical genres for its rich tone and musical versatility. From the Standard Series to the top of the line American Standard Series, Fender has created a sound tailored just for you.
FENDER BASS GUITARS
0144052547 - Fender Player Mustang Bass PJ Guitar (Sienna Sunburst) - $849.00
0149803506 - Fender Player Precision Bass Guitar (Black) - $849.00
This Web Page Launched 03-15-10
This Page Last Updated On 09/23/2022